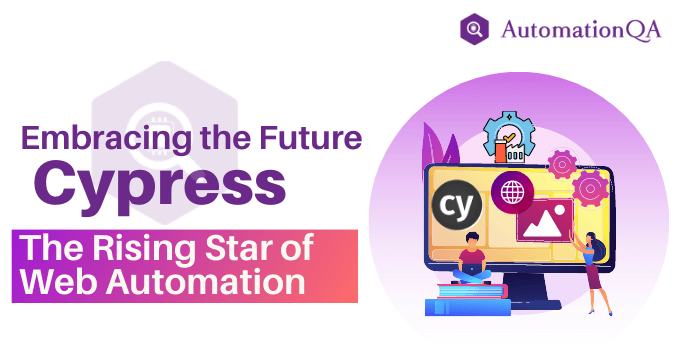 Welcome to the era of cutting-edge web automation! With the ever-changing digital landscape comes the evolution of the tools we employ to maneuver through it. Prepare to be dazzled as we unveil Cypress – the rising star of web automation transforming how developers test and perfect their creations.
With its modern, user-friendly approach, Cypress is revolutionizing the industry and making web application testing a breeze. Are you prepared to welcome the future and uncover how Cypress can enhance your development skills? Come to this exciting adventure with us!
"An open source web automation tool – Cypress is on a mission to change the game in the software world."
Understanding Cypress Framework
Automated testing is efficient and saves time and money. Cypress is a popular automated testing tool for modern web applications that is easy for Java script users to start using. The only drawback of Cypress is that it only supports Chrome, but there are plans to add support for other browsers soon.
Surveys have found that Cypress is very popular and a modern trend among the Java Community and has been considered a fantastic tool. It offers excellent results for UI practical test automation and API testing, usability testing, and visual validations. It also stated in State JS 2019 that Cypress has been considered to be the second most tested platform by many developers and QA engineers.
Why should you prefer the Cypress test automation solution?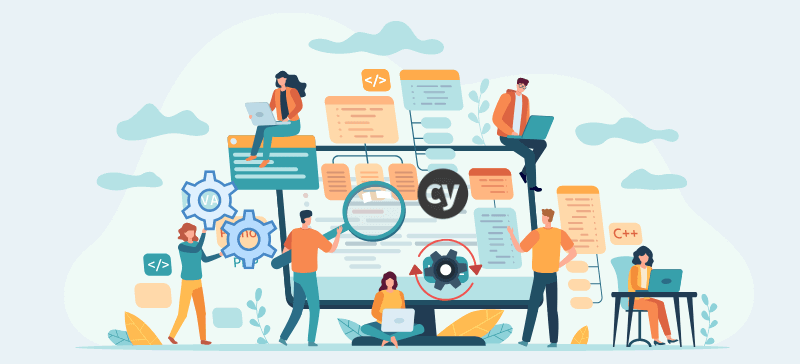 Cypress has an easy installation and automation framework
Unlike other web automation tools, Cypress gets installed in less than five minutes. Once installed successfully, you can launch an application where you have already set up the framework. You must have NPM (package manager for Javascript and the most significant software registry in the world installed) to run Cypress successfully.
Unique UI test runner
Cypress's built-in unique test runner allows developers to examine how to execute tests on each action. Simply put, the cypress tool for automation allows one to see how many tests are passed or failed during the test run.
Impressive documentation and a great community
Cypress offers the most easy-to-understand, simple, and detailed explanation of the functions and components. Taking care of the documentation process is a top priority for the company's team. Cypress has one of the best communities, which remains active most of the time and makes regular updates with constant upgrades and bug fixes.
Zero flaky tests
The continuous movement from test runner to web driver causes flakiness of the tests. However, in Cypress, you won't face this problem. The integrated platform of Cypress has the test runner and web interface in the same place. Consequently, communication is seamless between the two.
Plugins work Excellent
Cypress has a lot of excellent plugins that help make web automation tasks a lot easier. These plugins help to make web automation tasks much more accessible. There are plugins for almost everything, from managing your test environment to running your tests.
How is Cypress Software Changing the Development Game?
A significant benefit of using Cypress is its ability to perform real-time tests. Users can see the results of the tests as they execute them. The powerful command-line interface allows for the automation of testing tasks more efficiently. There are various advantages of using Cypress.
The tests run quickly in Cypress; users can see what happens in each step.
Cypress boasts a user interface that is both simple and user-friendly.
Users will find it more accessible because of its simple interface.
Since tests execute quickly and efficiently, much time and money are saved.
The cypress web testing has less chance of being unsuccessful, and one can entirely rely on it.
Various tasks can be performed, making the platform flexible.
The community of Cypress is excellent, with numerous plugins and integrations.
Cypress operates within the browser, eliminating the need for extra software.
The simple and user-friendly API makes tests easier and quicker.
Experience the Next-Gen Web Automation Powerhouse with Cypress web automation.
Verdict
As we reach the end of our thrilling exploration of Cypress, it's clear that this rising star is ready to take the web automation world by storm! We've witnessed firsthand Cypress's power to reshape the development landscape. Are you prepared to embrace the future and join the Cypress revolution? Seize the opportunity to elevate your web testing game and confidently ride the wave of next-gen automation!
The following two tabs change content below.

AutomationQA
Co-Founder & Director, Business Management
AutomationQA is a leading automation research company. We believe in sharing knowledge and increasing awareness, and to contribute to this cause, we try to include all the latest changes, news, and fresh content from the automation world into our blogs.

Latest posts by AutomationQA (see all)