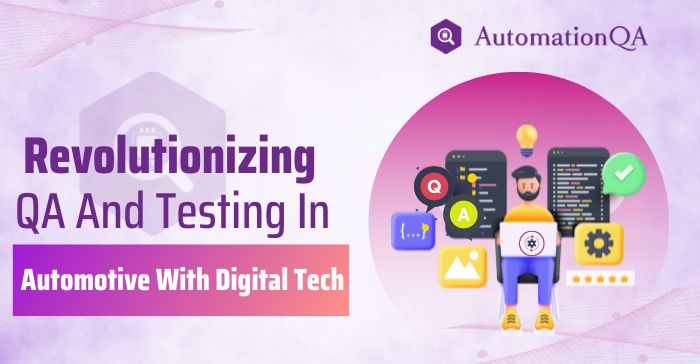 Are you here to explore how digital technology reshapes the automotive industry's quality control approach? Well, you're in luck! With AI-powered advanced robotics, automation improves efficiency while significantly reducing mistakes and costs.
Here, you'll explore the fascinating world of automation and how it's revolutionizing QA and testing in the automotive sector. So buckle up and join us as we delve into the innovative ways in which automation improves the efficiency and accuracy of quality assurance processes, ultimately driving the industry forward.
"The automation revolution: Redefining QA & testing in the automotive industry via digital innovation."
Why Is Testing Important In The Automotive Sector?
There exist numerous factors contribute to the expansion of QA and testing. The automotive industry is witnessing the integration of smart systems and robotic controls in its equipment leading to a surge in data generation.
Customer involvement plays a critical role in determining the success of the sector. Therefore, the organization's core objective is to enhance its infrastructure. The text describes different testing methods and how they produce high-quality products.
Manual testing
Technical knowledge is optional for this type of conventional testing. Cover the entire application from the end-user perspective covering the whole business case.
Automation testing
Different testing methodologies automate test steps via coding. It proved to offer a faster verification of processes within the application.
How Digital Technologies Driving Change In The Automotive Industry?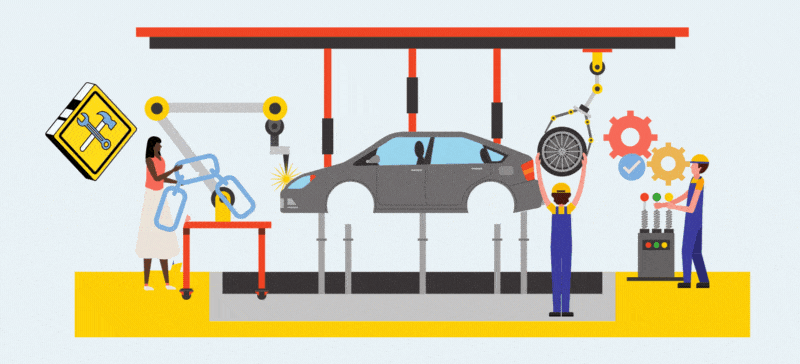 Connected Cars: With the emergence of the Internet of Things (IoT), cars have become connected to the internet, allowing them to gather and transmit information.
Autonomous Vehicles: The advancement of autonomous driving technologies is transforming our means of transportation. With a multitude of sensors, cameras, and software, self-driving vehicles can navigate roads safely and proficiently.
Electric Vehicles: Digital technology is also driving the growth of electric vehicles, as they enable advanced battery management systems and efficient charging infrastructure.
Digital Showrooms: Many automotive companies are now using digital technologies to enhance the customer experience. For example, digital showrooms allow customers to view cars in 3D, configure their features, and even take virtual test drives.
Supply Chain Management: Digital technologies are also transforming the supply chain in this industry. With the use of advanced analytics and artificial intelligence, companies can optimize their supply chain processes, reduce costs, and improve efficiency.
Overall, digital technologies are driving Automotive digital transformation in automotive industry, enabling new business models, improving efficiency, and enhancing the customer experience.
Automakers use virtual prototypes to test for safety, performance, and emissions without building physical prototypes. This shift from physical to digital prototyping is rapidly driving significant changes in QA and testing.
Technologies Employed In The Automotive Sector
This industry evolves with new technologies and innovations faster and faster. This industry adopts the latest technologies to provide customers with satisfactory and top-quality products.
Data gathering became more mechanical
The adoption of computers considerably changed this sector's design and testing processes. Scientific measures have been adopted, and the automotive testing process has been refined. All the digital features enable easy tracking of vehicular data essential for some instances like insurance, the driver's safety, maintenance, and fleet management.
Use of cloud-based tools
Automotive testing in the cloud comes with numerous benefits, like low cost, scalability, and ease of maintenance. Mobile and web testing uses cloud-based tools in various environments and machines. No infrastructure is needed.
Dynamometer testing
Dynamometer testing encompasses all vehicle drivetrain components, such as transmissions, transaxles, transfer cases, rear axles, half-shafts, and the complete driveline system. This test involves subjecting prop shafts to various conditions, including hot and cold temperatures, torque, and speed while tracking the bearing temperatures through advanced digital technology such as infrared cameras.
EMC/ EMI testing
All vehicles fill with electronic components. Electromagnetic Interference and Electromagnetic Compatibility are essential to ensure that the vehicle's electromagnetic systems and subsystems perform most desirably.
Mechanical testing
In Automotive Mechanical Tests, the performance and efficiency of the engine examine. Physical operation testing is necessary for vehicles that rely heavily on electrical and mechanical systems. Mechanical testing companies carry out detection for leaks, analysis of fluid dynamics, stress testing, etc.
Final Thoughts
With advanced technologies such as machine learning, AI, and IoT, manufacturers can identify defects early on, improve production efficiency, and deliver high-quality vehicles to customers. If you want to stay ahead of the curve in the automotive sector, now is the time to embrace automation and leverage its benefits. So why wait? Explore the latest automation solutions for your quality control processes and experience the revolution!
The following two tabs change content below.

AutomationQA
Co-Founder & Director, Business Management
AutomationQA is a leading automation research company. We believe in sharing knowledge and increasing awareness, and to contribute to this cause, we try to include all the latest changes, news, and fresh content from the automation world into our blogs.

Latest posts by AutomationQA (see all)