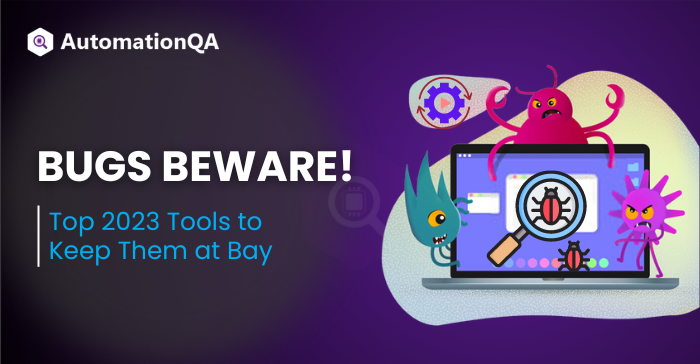 Flawless functionality is the ultimate pursuit in software development, where intricacies lie beneath every line of code. That's why the significance of bug tracking has risen to paramount importance.
These tools serve as vigilant guardians of software integrity, diligently identifying, documenting, and managing the glitches and hitches that can inevitably emerge during development. As the curtains rise in 2023, these tools will continue to shift and expand solutions that cater to the diverse needs of small and complex projects.
We'll delve into the journey to offer a comprehensive understanding of the features, capabilities, and unique attributes that set each tool apart. We'll also shed light on the top contenders in 2023 that inspire contemplation on the software development landscape.
Let's navigate the world of the best bug tracking tools, redefining the new benchmarks for technological excellence.
Top 5 Bug Tracking Tools For Proactive Strategies
Jira Software
Jira Software is a versatile and comprehensive tool that extends beyond its project management features to serve as a powerful bugging software. In the specific realm of tracking, this software offers a structured and systematic approach that empowers software development teams to effectively manage software defects, streamline issue resolution, and enhance the overall software development lifecycle.
Key Features
Structured Tracking and Documentation
This Software introduces structure to the tracking process by categorizing issues into various types, including bugs. This categorization lets teams distinguish between problems and treat them separately from new features. Each bug is assigned a unique issue ID, making it easy to reference and track throughout its lifecycle.
Prioritization
With Jira, bugs are not just isolated problems but part of a larger ecosystem that demands careful prioritization. Development teams can assess the impact and severity of each bug, categorizing them as critical, major, minor, or trivial. T
Custom Workflows
It allows the creation of custom workflows tailored to the bug resolution process. These workflows outline a bug's stages, from design to verification and closure. Workflows can include statuses such as "Open," "In Progress," "Testing," and "Resolved," providing transparency into the bug's status at any given time.
Redmine
It is a free bug-tracking web application that helps teams debug, track, and resolve other issues. Its primary purpose is to empower teams by providing them with a robust platform to orchestrate projects, foster collaboration, and meticulously monitor the evolution of errors and bug resolution.
Key Features
Gantt Chart
Redmine's Gantt chart is a graphical representation of their interdependencies. The chart also illustrates the sequencing and relationships between tasks, showcasing dependencies and how one task's completion affects others.
Subtask Creation and Assignment
It breaks down complicated tasks into small components called subtasks. As these subtasks are more manageable hence, teams can resolve them quickly. Its feature supports a hierarchical structure, allowing you to outline task dependencies and responsibilities.
Custom Fields for Enhanced Flexibility
One of Redmi's strengths is its flexibility through custom fields. This flexibility accommodates unique project requirements and ensures your data captures relevant information.
Bugzilla
It is a web-based open-source bug tracking system and issue management tool extensively employed by software development teams to monitor and oversee software defects, enhancements, and other issues throughout development. Developed by the Mozilla Foundation, it has garnered acclaim as a versatile and dependable choice for structuring and resolving software-related challenges. With its features, Bugzilla aims to simplify issue tracking, foster collaboration, and facilitate efficient project management.
Key aspects and features
Issue Tracking
It empowers teams to generate and oversee various issues, encompassing bugs, feature requests, tasks, and beyond. Each issue has a distinctive identifier, ensuring seamless referencing and comprehensive tracking capabilities.
Customization
Bugzilla stands out for its exceptional level of customization, granting QA automation companies the flexibility to tailor workflows and attributes. So that it aligns precisely with their project requirements and operational processes, this capacity for customization extends comprehensively to issue types, statuses, priorities, and even severity levels.
Email Notifications
It offers an inbuilt email notifications system to send email notifications to teams. This email notification triggers unique events, such as reporting a new bug or debugging an existing one. Users receive notifications when problems are created, assigned, updated, or resolved, ensuring timely communication.
Linear
It stands as a contemporary solution, bridging the worlds of project management and issue tracking with finesse. Its purpose is to empower software development teams in workflow refinement, collaboration, and delivering exceptional outcomes. This tool is known for its commitment to simplifying a test automation company's process and enhancing its efficiency.
Within its framework lies a spectrum of features that facilitate task management and progress tracking and foster seamless communication. What sets Linear apart is its undeniable allure to engineering and product teams. Who are captivated by its user-friendly interface and the developer-centric capabilities it brings to the table.
Key Features
Analytics and Insights
It provides analytics and insights that help teams track productivity, monitor performance, and identify areas for improvement. These insights assist in optimizing workflows and resource allocation.
API Access
Linear offers API access, allowing teams to extend and integrate its functionality with other tools and services in their workflows.
Access Control
To keep data private and only accessible to authorized users, Linear uses security techniques like role-based access control and data encryption.
Criteria For Evaluating Bug Tracking Tools
A discerning evaluation process becomes crucial to identify the optimal fit for your software development endeavors. The efficacy of a tool rests on a multifaceted foundation. As you embark on this selection journey, consider these essential criteria that guide you toward the ideal tool.
Customizability and Flexibility
Every project has distinct nuances and intricacies, and the ability to mold tools according to your specific needs becomes essential. That's where customizability and flexibility become cornerstone criteria when evaluating bug tracking tools. This criterion transcends the realm of mere convenience and works as a decisive factor in orchestrating seamless workflows, refining collaboration, and optimizing.
From agile methodologies to waterfall approaches, from web development to mobile app creation, the range of projects demands an adaptable tool.
User Interface and Ease of Use
A well-crafted UI is like a well-designed map that guides users effortlessly through the tool's features without exhaustive tutorials.
From the first interaction to mastering functionalities, an intuitive UI boosts confidence and accelerates the user's learning curve. It is the bridge that connects developers, testers, and project managers to the heart of the tool's functionalities. As you search for the ideal bug tracking tool, consider the significance of UI and user-friendliness.
Collaboration and Communication
In software development, where tasks intertwine and complexities unfold, the rhythm of success is dictated by the harmony of collaboration and communication. This feature is the soul of encapsulating the essence of seamless teamwork and collective accomplishment.
The allure of real-time communication, instantaneous discussions, timely alerts, and immediate notifications is undeniable. It ensures every issue remains noticed and solved. Whether addressing critical bug tracking, sharing insights, or seeking clarifications, real-time capabilities transform communication from a bottleneck to a seamless flow.
Integration Capabilities with Other Tools
In a disjointed ecosystem, data can become fragmented, leading to discrepancies and duplication. Integration capabilities curtail this risk by ensuring that data flows accurately between tools. Changes made in one tool are reflected across the ecosystem, minimizing errors and fostering a single source of truth.
An integrated tool ecosystem eliminates information silos, ensuring updates reach individual tools. Everyone within the team gains visibility into the larger picture, fostering informed decision-making and eliminating the isolation of roles. Data from bug tracking, project management, and version control converge to provide holistic insights, aiding in identifying trends, optimizing processes, and making strategic decisions.
Reporting and Analytics Capabilities
A tool armed with analytics capabilities unveils these hidden gems. It lets you spot recurring issues, identify common causes, and anticipate potential challenges. Developing proactive strategies is made much easier by this predicted understanding. Reporting and analytics features transform raw numbers into visual representations that are both engaging and impactful.
Visual charts, graphs, and diagrams provide a holistic view of your project's health, enabling you to grasp complex concepts at a glance. It also allows you to spot recurring issues, identify common causes, and anticipate potential challenges. The predictive insight of a bug tracking tool is invaluable for devising proactive strategies.
Final Thoughts
Automation testing companies strive towards organizational growth by rolling out quality-assured software products. Then, these tools become their strategic partners, guiding their development journeys. The right choice hinges on aligning tool strengths with organizational visions. The ultimate aim is unwavering: delivering quality, reliability, and user satisfaction products. Thus, it is crucial to use cutting-edge tools if your organization wants to advance in this competitive era.
The following two tabs change content below.

AutomationQA
Co-Founder & Director, Business Management
AutomationQA is a leading automation research company. We believe in sharing knowledge and increasing awareness, and to contribute to this cause, we try to include all the latest changes, news, and fresh content from the automation world into our blogs.

Latest posts by AutomationQA (see all)