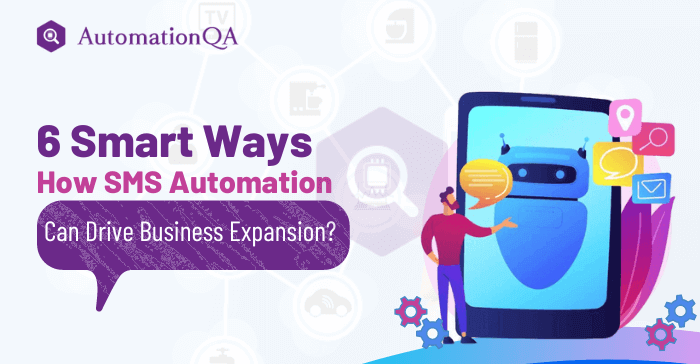 Do you need help in increasing your lead count? Do you want to know how large businesses are flourishing faster? Why not yours, then? You need to have the right strategies to foster your customer engagement. According to a survey conducted by Semrush, 71% of marketers believe that SMS Automation could be valuable for personalization.
"Embrace SMS automation and witness the remarkable revolution it brings to your business scaling."
SMS marketing automation is more than just updating customers about their orders or sending them notifications. Instead, it is about providing the ideal value at the appropriate time. SMS marketing lets you leverage the omnichannel approach. It provides a seamless way to integrate channels, ensuring a comprehensive and cohesive customer experience.
However, SMS marketing automation helps businesses streamline communication through centralized customer interactions. In the era of personalized customer experience, embracing SMS Automation can scale your business by providing a competitive edge. Let's see how?
6 Ways To Use SMS Automation
1. Enhanced Customer Engagement
Customer engagement lies at the heart of any successful business. You can establish direct and instant customer communication channels through SMS marketing automation. Whether sending personalized offers, order updates, or important notifications, SMS marketing automation ensures that your message reaches customers' fingertips promptly. With the high open rates and quick response times associated with SMS, you can drive higher engagement levels and foster stronger relationships with your target audience.
2. Streamlined Marketing Campaigns
Efficient marketing campaigns are vital for business growth. SMS marketing automation empowers you to streamline your marketing efforts by delivering targeted messages to segmented customer groups. You can create personalized SMS campaigns that resonate with individual recipients by leveraging customer data and preferences. From promotional offers and limited-time discounts to event invitations and product launches, SMS automation allows you to craft compelling marketing messages that drive conversions and boost your brand visibility.
3. Improved Customer Service
SMS marketing automation can significantly enhance customer service capabilities by enabling quick and convenient communication. Customers can contact your business via SMS for support, inquiries, or feedback. This level of accessibility and responsiveness builds trust and loyalty, resulting in satisfied customers who later can become your brand voice.
4. Optimal Appointment Management
For businesses that rely on appointments or bookings, SMS marketing automation can revolutionize how they manage their schedules. By partnering with QA automation companies specializing in SMS marketing, businesses can harness the power of automation to streamline their appointment management process. Automation also ensures that your customers are always informed and reminded of their appointments, minimizing the risk of missed opportunities and enhancing overall customer satisfaction.
5. Real-Time Customer Feedback
Gaining insights into customer feedback and preferences is crucial for business growth and improvement. SMS automation allows you to gather real-time customer feedback through surveys, polls, and rating systems. These data can provide in-depth information about their satisfaction level. Further, this data can be used to improve the product and services. This will help you to develop a customer-centric work culture within your organization.
6. Increased Sales and Conversions
Driving sales and conversions is a top priority for businesses aiming to scale their operations. The immediacy of SMS notifications often leads to higher conversion rates, making it a valuable tool in your sales arsenal. SMS marketing automation also presents a highly effective channel for informing the audience about the latest offers. With carefully crafted SMS campaigns, top automation consulting firms can highlight the unique value propositions of your offerings, which can entice customers to make purchases.
How to Get Started with SMS Automation?
Undoubtedly SMS marketing automation is vital for the success of any business. To maximize its benefits, it must be well-planned and executed. There must be a synchronization between your marketing efforts and the tools. If you are new to SMS marketing, you can get help from leading automation consulting firms. Eles, we have formulated a four-step process that can help you to leverage the benefits of SMS marketing.
Mapping out the Touch Points
Remember, the key to effective communication is to trigger the transmission of messages at the best time. This makes it necessary for your team to map out the various touchpoints in your customer's entire journey.
Identifying the Data Point
The next step for effective SMS automation is locating the data points associated with touch points in the entire customer's journey. As these data will make informed decisions that can significantly improve the results.
For instance, if you know your customer's location and the product it has abandoned, then using this data, you can create more personalized SMS, which can be more effective.
Installing Automation Tools
The next step in creating a robust SMS marketing automation strategy is installing automation tools. Today, plenty of tools are available using them can help you make your process more effective and efficient. Therefore it becomes very vital to select the best and most appropriate tools. First, understand your needs and then do an in-depth market research. Various premium tools come with free trials, which can help you get familiarised with them.
Create Automation
The final step is creating SMS marketing automation according to your customer's journey. Again, you can use the various ready-made templates or create one from scratch.
Final Thoughts
SMS marketing automation offers a myriad of benefits that can significantly scale your business and outperform your competitors. By leveraging the power of personalized communication, streamlined marketing campaigns, improved customer service, optimal appointment management, increased sales and conversions, and real-time customer feedback, you can establish a strong brand presence, nurture customer relationships, and drive sustainable growth. Incorporating SMS automation into your business strategy is an essential step toward staying ahead in the digital landscape.
The following two tabs change content below.

AutomationQA
Co-Founder & Director, Business Management
AutomationQA is a leading automation research company. We believe in sharing knowledge and increasing awareness, and to contribute to this cause, we try to include all the latest changes, news, and fresh content from the automation world into our blogs.

Latest posts by AutomationQA (see all)