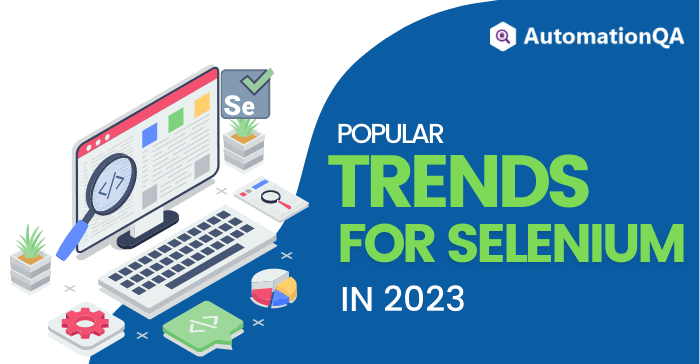 Gone are the days when software testing was directly related to locating flaws in a particular software product. Now, the game has changed, and the evolution of software testing is witnessed by GMinsights' most recent analysis, Automation Testing is now valued at USD 20 billion and is anticipated to grow at a 15% CAGR between 2023 and 2032.
Automation testing has a magnificent role in the expansion of software testing. On that note, Selenium automation testing can be considered a leading element in the sphere of software testing. And, this article will touch on all the important trends concerning Selenium and other automation tools.
"Learning about the topnotch trends circling Selenium would lead to direct advancement in the software industry."
Top Trends for Selenium Automation Testing
Selenium mechanization comprises a few trends that must be adopted. Some selenium benefits listed below can be followed to cope with the latest trends:
1. Selenium 4 Will be the Engine that Drives Automation Testing
Selenium 4 includes several feature enhancements such as improved docker support, parent frame identification, better-formatted instructions to access a Selenium Grid, and more. Some of the new features of Selenium 4 include-
support for relative locators,
improved web browser window and tab management,
a native Chromium driver for the Microsoft Edge browser, and more.
Selenium 4 has been extensively praised and acknowledged as an improved version of its previous versions.
2. QAOps
The integration of quality management and IT functions, known as QAOps, is one of the popular trends present in software testing. A DevOps-focused technique is employed by QAOps for developing premium applications. Here, there is proper cooperation among the testing, operations, and programming teams. The process of continuous integration and development is actively participated in by the testing teams.
3. Cloud Distribution for Cross-Browser Testing
The technique of testing on the local Selenium Grid is not sustainable. Because of this limitation, several businesses have shifted their automated browser testing efforts to cloud-based systems. With the increasing number of browsers, devices, and operating systems introduced each year, cloud-based cross-browser testing appears to be a more plausible choice.
4. Testing With a Left Shift
One odd development in the sphere of automation framework for selenium is shift-left testing. Shift-left testing is performed on the left side of the procedure, whereas traditional software testing is performed on the right. Developers are inspired to experiment prematurely in the software life cycle by employing shift-left testing.
5. Test Automation Without Scripts
Instead of developing scripts to automate tests, scriptless selenium testing makes use of tools. In order to build the many tests needed for various features, scriptless screening tools record the tester's actions as they are traversing the software.
Developers have the allowance to implement an assortment of scrutinization equipment with superior performance for UI scrutiny, end-to-end testing, and additional testing types. The production of tools on the test automation framework put forward immense adaptability and repeatable test cases.
6. Testing Big Data
Big data is fundamental to the success or failure of every firm. Big data is another word used to describe a sizable dataset, which is not analyzed using conventional methods. Companies employ a variety of large-scale big data selenium automation testing tools, strategies, and frameworks to test these datasets.
Big data testing is a hub that is inclusive of data quality assurance, performance assurance, and the functional testing of both structured and unstructured details.
7. Blockchain Evaluation
Due to the popularity of blockchain technology, one of the rising trends in software testing is blockchain testing. Selenium mobile automation testing seeks to explore the safety and reliability of the registered network that connects several blocks.
A single node in a cluster of blocks may include various software programs. Blockchain testing not only examines security but also the maximum load and sustainability of blockchain systems and ledgers.
It is necessary for every organization to get a complete hold of selenium automation and other tools to ensure a hassle-free software experience. The above list of top automation trends will be greatly helpful for businesses of all sorts in elevating their operations. In order to be pertinent in the software industry, these automation trends are needed to be embraced.
The following two tabs change content below.

AutomationQA
Co-Founder & Director, Business Management
AutomationQA is a leading automation research company. We believe in sharing knowledge and increasing awareness, and to contribute to this cause, we try to include all the latest changes, news, and fresh content from the automation world into our blogs.

Latest posts by AutomationQA (see all)