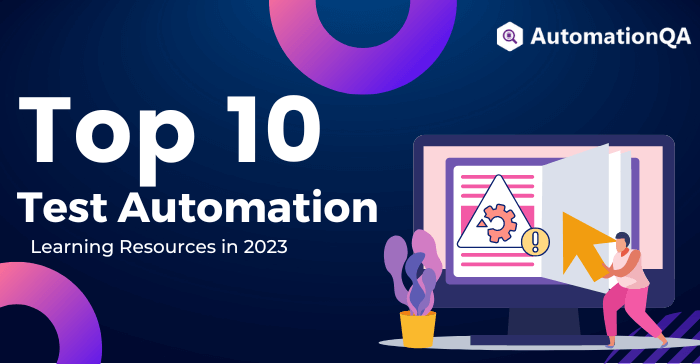 One of the critical stages of the software evolution life cycle is software testing. A system's quality assurance is totally dependent on test automation, which aids in lowering testing expenses and, as a consequence, improves job productivity.
As the number of projects is scaling with a rising demand to shorten the value-to-market, expertise in test automation has become a "wise" investment to serve fast-moving businesses. During the projected period, sources predict that the size of the worldwide automation market will increase from USD 12.6 to USD 28.8 billion, or a compound annual growth rate of 18%.
"Test automation is not about replacing human testers, it's about augmenting their capabilities."
10 Significant Platforms To Learn Test Automation in 2023
We are recommending you some popular websites from where you can learn automation testing:
1. Katalon Academy
A learning center that breaks down all the ideas of automated testing is Katalon Academy. This encompasses DevOps, CI/CD pipeline integration, online, API, and mobile testing. It is appropriate for testers, QA experts, and developers of all levels and offers basic to advanced training.
2. Udemy
One of the most well-known online learning platforms is Udemy. It has amassed approximately 1,55,000 courses overall since its founding in 2010 offering diversified subjects. When it comes to the test automation frameworks comparison, the cost of Udemy is quite affordable with most courses offered for free. Digital certificates are given following the successful completion of paid courses.
3. INE's Task Automation for Network Engineers
The goal of the course is to teach network engineers how to handle their environment more efficiently. The emphasis on TCL and Expect languages allows the topics covered in this course to be used with a variety of suppliers. The 8-hour course is designed for inexperienced students. A strong internet connection and an interest in test automation frameworks are the only prerequisites for this course.
4. LinkedIn Learning
LinkedIn Learning is a reputable platform that provides top-notch courses divided into three primary categories: business, creativity, and technology. Even though some courses are free, you must purchase a $30 monthly membership in order to access all classes.
5. Pluralsight
Another well-known learning portal with more than 7,000 courses is Pluralsight. To provide top-notch courses for consumers, the platform worked with more than 1,500 professionals from various sectors. You must pay a monthly subscription of about $30 to enroll in many fundamental courses at Pluralsight (around 2500 courses).
6. Coursera
A well-known massive open online course provider, Coursera offers 3,000 courses on a variety of subjects. The three primary kinds of instruction are courses, guided projects, and specializations. Some development courses are free of cost. You may have to pay at least $9.99 for a test automation strategy project guide, and at least $39 a month for specialization.
7. Simplilearn
Simplilearn claims itself as being the greatest certified training provider and the top online boot camp. You may become an automation test engineer with Simplilearn's 12-month master's test automation case studies. This extensive course provides you with in-depth information and practical experience in software development, automated testing, and quality assurance (QA) techniques. This course costs $1,299 to enroll in.
8. Edureka
Many technology-related courses are offered by Edureka, including ones in computer software development and software development. It offers more than 100 live online courses on a variety of subjects. Depending on the kind, it might cost anywhere from $100 to more than $1,000.
9. edX
A professional e-learning platform called edX offers courses in a variety of subjects, such as engineering, computer programming, and business management. You may select from more than 3,000 courses overall. With the audited option, you can enroll in test automation best practices at no cost. This indicates that you may only partially access the information and that no certification will be given.
10. Techcanvass
IT specialists in India formed Techcanvass, a business that provides software training and consultancy services. The majority of courses are given by seasoned local specialists and only cover Selenium as a testing technology. You may select from a variety of low-cost packages that range in price from $60 to $270.
Test automation is like a turbocharger for your QA process.
The best internet resources for learning about automation testing are listed above. They cover a wide range of related topics, from implementing specific test automation tools to the roadmap you need to succeed. Each one has certain advantages that can meet your expectations. Think about your level, purpose, goals, and money while selecting the appropriate websites and courses.
The following two tabs change content below.

AutomationQA
Co-Founder & Director, Business Management
AutomationQA is a leading automation research company. We believe in sharing knowledge and increasing awareness, and to contribute to this cause, we try to include all the latest changes, news, and fresh content from the automation world into our blogs.

Latest posts by AutomationQA (see all)