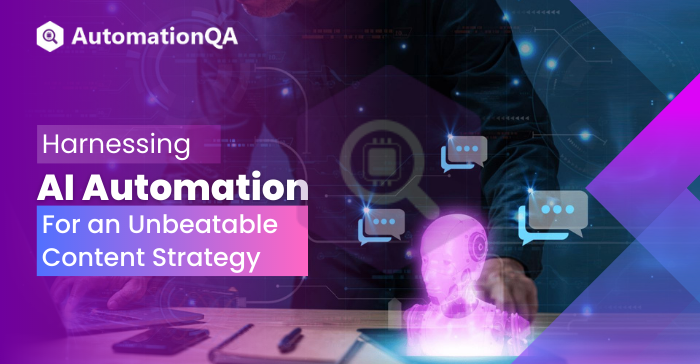 Are you ready to level up your content strategy but need help knowing where to start? Want to know how cutting-edge AI automation can boost your content production, refine its quality, and increase audience engagement?
Have you ever wondered what it would be like to harness the power of artificial intelligence to curate and manage your content while minimizing the effort, time, and resources required? Well, we have some exciting insights to share. Let's explore this digital frontier together via this blog post!
"AI is not a mere trend, it's a transformation tool – reshaping the landscape of content strategy."
What Does AI Automation Mean?
Artificial intelligence (AI) automation applies cutting-edge technology like Machine Learning and AI to automate different operations and processes. The automation's primary goal is to take over tedious, repetitive chores so you can spend more time on critical, creative areas of your organization. Data input, customer service, and even content creation may all be automated using AI.
It tries to mimic or augment human intelligence by learning from the data and applying algorithms. Grothbar, WriteSonic, Scalenut, CopyAI, Outranking, Simplified, AI Writer, and hundreds of others have already made a wave assisting in content creation in multiple ways.
How Can AI Tools Help In Content Strategy?
Automate the repetitive tasks
Make the content research process faster
Get data from comprehensive sources
monitor market trends
makes content production smooth
better lead generation
Note:- It is pertinent to mention that no AI platforms can become a substitute for human intelligence, so they can only supplement the human in making the work fast, accurate, and accessible.
AI Automation- A Potent Way To Successfully Implement Content Marketing Strategy
Start the process by setting goals such as generating leads, raising brand recognition, establishing credibility and authority, increasing website traffic, or disseminating valuable data.
Once your objectives are clear, make a plan of action that specifies the kinds of content you'll develop, how frequently you'll publish it, and the channels you'll use to connect with your target market.
Now let's read how automation in AI may assist you in transforming your content marketing.
Personalization
The AI-powered Content Management System (CMS) allows businesses to create personalized content by learning more about their audience.
With machine learning algorithms, the CMS analyzes data points such as browsing behavior, preferences, and purchases to deliver a unique experience to each customer. This level of personalization leads to improved engagement and conversion rates and encourages users to spend more time on the site.
When you interlink CMS with AI, make sure to contact QA automation companies to test and provide information on the implementation's success.
Streamlining Content Workflow Processes
Automation can reduce tedious manual work when it comes to managing content. Automating repetitive tasks using AI solutions can make a big difference in streamlining workflow processes, enabling writers to focus on creating valuable content.
By leveraging machine learning, workflows can automatically suggest relevant topics, edit content, generate workflow maps, and monitor and manage social media accounts. AI-powered tools also help analyze data more quickly, for example, by summarizing reports and giving insights on performance metrics.
Intelligent Content Distribution
Creating compelling content is only half the battle – effective distribution strategies determine how well your content performs. Tools with AI can analyze user behavior, identify potential content interests, and track consumption patterns.
Top automation consulting firms consistently suggest their client to use these insights for mapping out their content distribution strategy better. You can tailor content to specific platforms, ensuring that you receive maximum engagement and reach.
Content Optimization
Gone are the days when keyword stuffing could help to rank web pages. Google pays attention to content that offers value to the user instead of being stuffed with keywords.
Automation powered by AI can help optimize content by analyzing Google ranking algorithms, identifying the most relevant topics, and offering readability scores to improve user experiences. These tools can help businesses deliver results more effectively by providing indirect SEO optimizations and tweaking keywords.
Predictive Analytics For Content
AI automation can assist in reducing the number of assumptions made in content creation. Predictive analytics technology processes search engine queries to identify popular topics, questions, and searches.
Improved Voice Search Ranking
People are switching to voice-activated assistants such as Alexa, Siri, and Google Assistant to search for content on the internet. Optimizing content for these voice search algorithms is becoming increasingly important.
AI-powered tools can help to research trending topics, provide conversational keywords, and improve readability scores leading to improved voice search rankings.
Smart Content Enhancement
AI innovation has helped to create advanced feature enhancements such as ChatBots, Augmented Reality, and Virtual Assistants. These features further encourage users to spend more time on the website.
They read more content and provide feedback. Incorporating Smart content enhancement using AI can improve user engagement, drive business goals, and strengthen your brand image.
Content Creation
AI technology can also assist with creating engaging content that meets the needs of your target audiences. Tools such as Wordsmith, Articoolo, and ChatGPT use NLP technology to help writers generate creative and original content.
These tools have a natural language generation (NLG) algorithm that can describe data, generate product descriptions and write summaries, removing the need for human writers to do so. In addition to creating original content, AI-powered tools can help rewrite content faster and plagiarism-free by scanning and correcting for duplicate content.
How To Get Started With AI Tools For Content Strategy?
1. Identify your content goals.
2. Understand your target audience and their types of content.
3. Do extensive research to find the right tools for content.
4. Compare and evaluate to select the best tools.
5. Gather and organize your content data.
6. Provide input primarily through prompts.
7. Implement tools and integrate with CMS.
8. Test and monitor the tool.
9. Contact the best AI automation consulting firms to stay updated with advancements.
Wrapping up
AI is the future of content marketing, and fortunately, plenty of tools and platforms can help teams transform their content with AI. Whether you're using AI-powered content creation, curation, distribution, personalization, or performance optimization solutions, embracing automation will give you the competitive edge you need to remain relevant in today's digital landscape.
It's also worth noting, however, that while AI does help to streamline processes, successful content marketing still depends on an experienced team that understands your brand's messaging and values.
The role of AI automation is to reduce some of the resource-intensive tasks, allowing marketers to spend more time crafting campaigns that resonate with the audience.
The following two tabs change content below.

AutomationQA
Co-Founder & Director, Business Management
AutomationQA is a leading automation research company. We believe in sharing knowledge and increasing awareness, and to contribute to this cause, we try to include all the latest changes, news, and fresh content from the automation world into our blogs.

Latest posts by AutomationQA (see all)