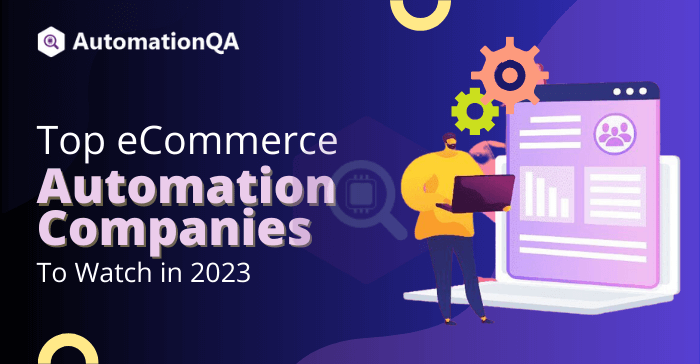 When discussing automation for an eCommerce website, the objective is to simplify and streamline business processes. You can save time and cut overhead expenses by automating your multiple tasks.
eCommerce automation tools facilitate operations from order receipt to delivery, swiftly addressing customer queries and charges. It leads to increased sales, greater profits, and enhanced customer experiences. Imagine being a founder seeking to hire individuals to market your eCommerce store. It requires a significant workforce and capital for smooth operations. Many business owners prefer to refrain from making such investments.
Automate, accelerate, dominate – The eCommerce success mantra of 2023.
Let's dive in to find out how you can streamline your marketing efforts through automation.
What is eCommerce marketing automation?
eCommerce marketing automation refers to using automated tools and software to streamline and optimize marketing processes in an online retail business. Automating different marketing chores, including email marketing, social media management, customer segmentation, campaign tracking, and tailored product suggestions, is a component of e-Commerce development services.
By leveraging automation, businesses can effectively engage with their target audience, nurture leads, drive conversions, and enhance overall marketing performance. It allows for personalized and timely communication, improves efficiency, and enables businesses to gather valuable customer insights for targeted marketing campaigns. eCommerce marketing automation is a powerful tool that helps companies to save time, reduce manual effort, and achieve better results in their online marketing efforts.
Benefits of eCommerce Marketing Automation
Higher Sales Conversion Rates
Automation allows for personalized and timely customer communication, leading to higher conversion rates. Sales conversions can level up by using automated email sequences, cart abandonment reminders, and targeted product recommendations.
High average order value (AOV)
eCommerce business automation helps implement upselling and cross-selling methods, encouraging customers to buy more and increasing the average order value. Automated product recommendations based on user behavior and past purchases may result in more significant transactions.
Improved customer insights
Data about client behavior, preferences, and purchasing patterns are collected and analyzed by automation technologies. With the help of this valuable data, firms may develop specialized marketing initiatives and individualized client experiences.
Reduced human errors
Manual marketing processes are prone to errors and inconsistencies. eCommerce marketing automation minimizes the risk of human error, ensuring accurate and consistent execution of marketing activities. eCommerce Automation Companies lead to improved customer satisfaction and brand reputation.
Boosts efficiency
Automation eliminates time-consuming, repetitive marketing chores, giving marketers more time to devote to strategic initiatives. It allows for efficient campaign management, optimized scheduling, and automated reporting, saving time and effort while delivering better results.
Best eCommerce Automation Marketing Software
Science Soft
ScienceSoft is a well-known company that provides e-commerce development services. They offer custom solutions tailored to the specific needs of businesses, ensuring user-friendly interfaces, secure payment systems, and seamless integration with various e-commerce platforms.
E-commerce developers with 10+ years of experience.
Robust quality management and security practices.
Expertise in different types of e-commerce solutions.
Good knowledge of B2C and B2B specifics.
Vasterra
Vasterra specializes in e-commerce website development and helps businesses create visually appealing and high-performing online stores. They focus on responsive design, intuitive user interfaces, and shopping experience optimization. The company offers full-service web development for various industries, including retail, eCommerce, and real estate.
They also provide custom software development services.
Specialize in building fast and responsive mobile applications tailored to specific business needs.
They offer ERP, CRM, and LMS development solutions.
24/7 support.
Delivers quality products.
TOPS Infosolutions
TOPS Infosolutions offers comprehensive e-commerce website development, including building online stores, integrating payment gateways, and developing custom features. The company specializes in e-commerce application development using the latest online retail architecture. They provide e-commerce shopping cart development with advanced and interactive functions.
Offer payment gateway integration and UI design services.
Provides complete maintenance for e-commerce websites.
Offers 24/7 customer support.
Real-time updates.
Smart suggestions.
Algoworks
Algoworks provides end-to-end e-commerce development service. They have experience developing scalable and secure online stores with features like inventory management, order processing, and seamless integrations. They value search engine presence, user experience, and mobile responsiveness. Their strategy and consulting solutions cover startup consulting, IT consulting, product auditing, and product development.
Suitable for a wide array of industries.
ISO 27001, ISO 9001:2015 certified company.
Offers product development and designing solutions, including support and testing services.
Provide eCommerce development using various popular programming languages.
Mountaintop Web Design
The company specializes in creating search engine optimized (SEO) responsive websites. They also offer WordPress maintenance services, including daily cloud data backup, continuous security and uptime monitoring, issue resolution, and more.
By giving businesses access to tools for local SEO.
Help us become more visible in local search results.
Offer data analytics services to assist in making informed business decisions.
Advanced digital marketing tools.
Quick service.
Instinctools
Instinctools offers an e-commerce website development automation service that delivers scalable and customizable solutions. They have expertise in various e-commerce platforms, CMSs, and integration with third-party applications. The company specializes in developing native iOS and Android applications, hybrid mobile apps, and cross-platform development.
Offer web development, UX design, and enterprise software development.
Provide business intelligence and data analytics services.
Maintenance and support
Dedicated and responsive support team
UPQODE
UPQODE is a company that provides e-commerce website development service, focusing on creating modern and visually stunning online stores. They emphasize user experience, performance optimization, and seamless functionality. The company specializes in custom WordPress website design and eCommerce automation services tailored to your unique business needs.
They utilize advanced web-based project management and design collaboration tools, ensuring that you have access to all the designs and codes throughout the development process.
Offer website maintenance, hosting, digital strategies, contact forms, and other features.
Cost-efficient services.
ISO 27001, ISO 9001:2015 certified platform.
Urtasker
Urtasker creates user-friendly and conversion-oriented websites with features like shopping cart integration, secure payment gateways, and inventory management. QA Automation Companies offer marketing services specifically tailored for Amazon sellers.
Provide brand management services such as SEO, Listing Optimization, and Enhanced Brand Content to enhance the visibility and reputation of your brand on the Amazon platform.
Offers a range of services related to product research, competitor analysis, keyword tracking, and backend optimization.
Help sellers improve their product rankings, discover market trends, and stay ahead of the competition.
Provide design and development solutions for creating and maintaining a user-friendly and secure online presence.
All-in-one eCommerce solutions provider.
Highly recommended strategic consulting services.
Key takeaways
Do you know eCommerce automation is a game-changer for companies to succeed in the cutthroat digital market in 2023? By partnering with the Top automation companies, businesses can unlock new levels of efficiency, drive growth, and deliver exceptional customer experiences. Whether it's streamlining operations, leveraging AI-driven insights, ensuring seamless integration, personalizing customer experiences, or optimizing marketing efforts, these companies offer cutting-edge solutions tailored to meet the unique needs of modern eCommerce businesses.
The following two tabs change content below.

AutomationQA
Co-Founder & Director, Business Management
AutomationQA is a leading automation research company. We believe in sharing knowledge and increasing awareness, and to contribute to this cause, we try to include all the latest changes, news, and fresh content from the automation world into our blogs.

Latest posts by AutomationQA (see all)